The Economic Club hosted an in-person Signature Event featuring The Honorable Gina M. Raimondo, Secretary, U.S. Department of Commerce, on Tuesday, September 28, 2021. Secretary Raimondo made remarks outlining her vision to increase American competitiveness, then joined Chairman David M. Rubenstein for a conversation-style interview about her agenda.
Gina M. Raimondo serves as the 40th U.S. Secretary of Commerce and was sworn in by Vice President Kamala Harris on March 3, 2021. As Secretary of Commerce, she is focused on increasing American competitiveness by investing in America's communities, expanding workforce development and skills training, empowering entrepreneurs to innovate and grow, and ensuring American workers and businesses can compete on a level playing field.
Prior to joining the Administration, she was the 75th, and first woman, Governor of Rhode Island, serving from January 2015 to March 2021. During her time as Governor, Secretary Raimondo kick-started the state's economy and made record investments in infrastructure, education, and job training.
Secretary Raimondo received a BA in Economics from Harvard University, a PhD in Sociology/Economics from Oxford University, as a Rhodes Scholar, and her JD from Yale Law School.
Speakers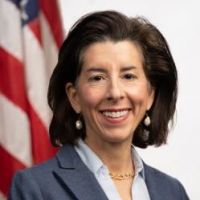 The Honorable Gina Raimondo
U.S. Secretary of Commerce