The David M. Rubenstein/Economic Club of Washington, D.C. Scholarship Program is one of the few large-scale scholarships dedicated exclusively to students graduating from D.C. public and charter schools. Over the years, the scholarship program has steadily expanded. Inaugurated in 2009 as a one-year grant of $5,000 per student, funding increased in 2012 to $10,000 per student, paid over their first two years in college. The program doubled again in 2016 to an extraordinary total of $1,000,000 annually. As a result of this exceptional generosity, approximately 50 scholarships of $20,000 will be awarded each year to bright, motivated students who exhibit impressive academic achievement. Scholars are provided with a myriad of programming designed to promote both college graduation and successful entry into professional careers.
Please email education@economicclub.org to learn about programming for scholars.
Online applications for college-bound seniors in select DC Public and Public Charter high schools will be available November 1, 2023. The application process will close on January 31, 2024.  
Congratulations to our 2023 David M. Rubenstein/Economic Club of Washington, D.C. Scholars!
---
The Economic Club of Washington, D.C. is proud to award the prestigious David M. Rubenstein/Economic Club of Washington, D.C. Scholarship to 55 graduating seniors from D.C. public and public charter high schools. Now in its fifteenth year, this program, endowed by Rubenstein, has awarded nearly $11 million to 711 scholars. For the sixth consecutive year, the A. James and Alice B. Clark Foundation has granted five additional scholarships. Along with this $20,000 scholarship, students are supported by member-driven programming including internships, mentoring, leadership seminars, and other opportunities.
Program Details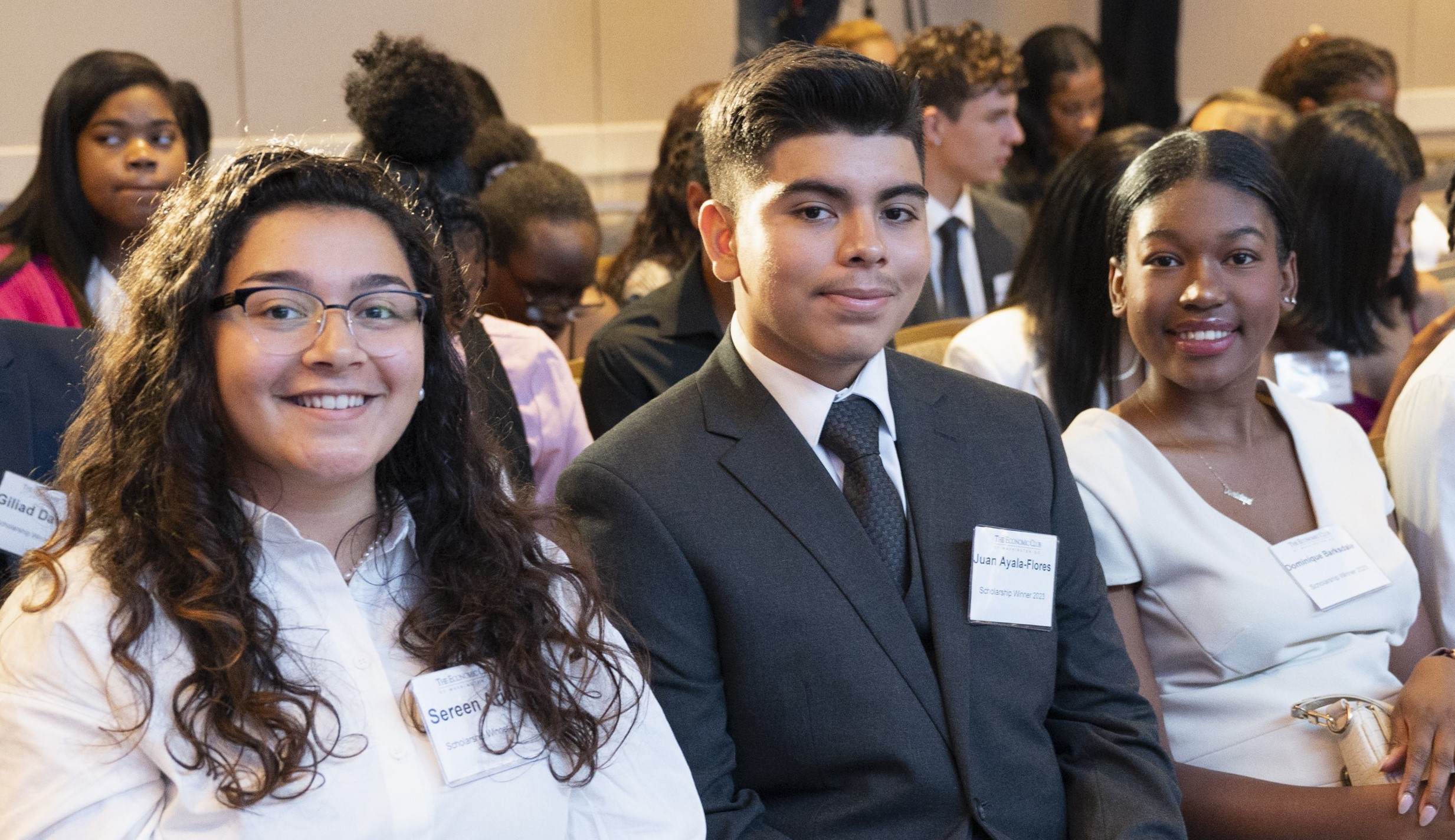 ---
Scholarships are awarded primarily for academic achievement. High school principals and the school's nominating committee choose the recipients. Only students enrolled in participating Washington, D.C. public schools and public charter schools are eligible to apply. Scholarship awards are presented every spring in a formal ceremony that award winners attend.
Winners participate in the Scholars to Leaders Programming beginning the summer after high school and continuing through college graduation. The program matches scholarship winners with alumni and Economic Club members who serve as mentors, providing consistent and meaningful support for student success. Successful scholars are invited to apply to our exclusive summer internship program. Program alumni form networks and participate in programming through our Alumni Association.
Scholarship winners also attend a series of seminars, which take place in the summer following high school graduation. Hosted by select Economic Club members, these seminars invite the students into the offices of leading local businesses for a day of informative education.
---
Thank you to our Education Sponsors!