Patrick Gelsinger, Chief Executive Officer, Intel Corporation, joined David Rubenstein in conversation on December 9, 2021. They discussed, among other things, Intel's plans to regain semiconductor dominance and increase U.S. production, the outlook for continued innovation in this highly competitive market, and Patrick's vision for Intel almost one year into his role as Chief Executive Officer.
On February 15, 2021, Patrick "Pat" Gelsinger returned to Intel Corporation, the company where he spent the first 30 years of his career. Before rejoining Intel, Mr. Gelsinger was CEO of VMware and president and COO of EMC's Information Infrastructure Products business.
Mr. Gelsinger began his career in 1979 at Intel, becoming its first chief technology officer, and also serving as senior vice president and general manager of the Digital Enterprise Group. He managed the creation of key industry technologies such as USB and Wi-Fi. He was the architect of the original 80486 processor, led 14 microprocessor programs and played key roles in the Intel® Core™ and Intel® Xeon® processor families, leading to Intel becoming the preeminent microprocessor supplier.
Mr. Gelsinger earned several degrees in electrical engineering: an associate degree from Lincoln Technical Institute, a bachelor's degree from Santa Clara University and a master's degree from Stanford University. He holds eight patents in the areas of VLSI design, computer architecture and communications, is an IEEE (Institute of Electrical and Electronics Engineers) Fellow, and serves as a member of the National Security Telecommunications Advisory Committee.
Speakers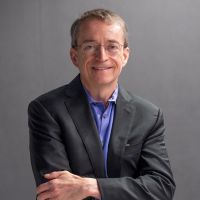 Patrick Gelsinger
Chief Executive Officer of Intel Corporation