The Economic Club of Washington, D.C. hosted a Signature Event with Jason Wright, President of the Washington Commanders, on February 3, 2022. Just one day after the announcement of the teams new name and brand, David Rubenstein sat down with Jason for a conversation on this historic moment and what Jason envisions for the future of the team.
In August 2020 the Washington Commanders team hired Jason Wright, making him the first Black team president in NFL history and only the fourth former player to ascend to that role. In August 2021 Forbes reported that the Washington Commanders generated the fifth largest revenue in the NFL and its franchise value grew 20 percent from the year before to 4.2 billion dollars.
Currently the youngest team president in the league, Wright is responsible for leading the organization's business divisions, including operations, finance, sales, and marketing. Prior to joining the Washington Commanders, Jason was a partner in McKinsey & Company's Washington DC office, where his work focused on expanding the value of large, complex organizations through operations and culture transformations. He specialized in steering companies through their toughest moments - in crisis and turnaround scenarios.
Wright spent seven years as a running back in the NFL. He has a B.A. in psychology from Northwestern University, where he was an Academic All-American student athlete. He received his M.B.A. in Operations and Finance, with honors, from the University of Chicago-Booth School of Business.
Speakers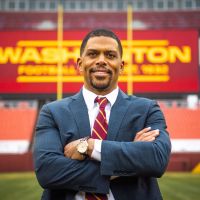 Jason Wright
President, Washington Commanders