David Rubenstein interviewed The Honorable Pete Buttigieg, U.S. Secretary of Transportation, on Tuesday, July 20, 2021.
Prior to joining the Biden-Harris Administration, in 2019, he launched his campaign for President. Throughout 2020, he campaigned for the Biden-Harris ticket and served on the advisory board for the presidential transition. In December, he was nominated by President-elect Biden to be the 19th Secretary of Transportation. He was confirmed by the Senate on February 2, 2021, becoming the first openly gay person confirmed to serve in a Presidential Cabinet.
Secretary Buttigieg served two terms as Mayor of his hometown of South Bend, Indiana from 2011 to 2019. Known as "Mayor Pete", he worked across the aisle to transform South Bend's future, establishing new resources to extend opportunity and access to technology for all residents. Under his leadership, household income grew, poverty fell, and unemployment was cut in half.
A graduate of Harvard University and a Rhodes Scholar at Oxford, Buttigieg served for seven years as an officer in the U.S. Navy Reserve, taking a leave of absence from the Mayor's office for a deployment to Afghanistan in 2014.
Secretary Buttigieg lives with his husband Chasten and their rescue dogs, Buddy and Truman.
Speakers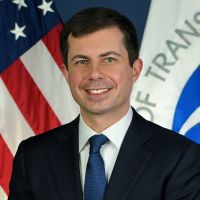 The Honorable Pete Buttigieg
U.S. Secretary of Transportation