The Economic Club of Washington, D.C. is pleased to announce that David Rubenstein will interview The Honorable Joseph Manchin III, United States Senator for West Virginia, on Tuesday, October 26, 2021.  They are expected to discuss, among other things, bipartisan legislative efforts and policy priorities.
The in-person breakfast will will begin at 8:00 a.m. followed by the breakfast and program at 8:30 a.m. ending promptly at 10:00 a.m. ET.
Senator Manchin was sworn into the United States Senate on November 15, 2010 and is currently serving in his third term. He remains committed to working with Republicans and Democrats to find commonsense solutions to the problems our country faces and is working hard to usher in a bipartisan spirit in the Senate and Congress. He serves as the Chairman of the Senate Energy and Natural Resources Committee, and also serves on the Senate Committees of Appropriations, Armed Services, and Veterans' Affairs.
Prior to joining the Senate, Senator Manchin served as the 34th Governor of West Virginia from 2005 to 2010 and the 27th Secretary of State of West Virginia from 2001 to 2005. Senator Manchin attended West Virginia University on a football scholarship and graduated with a degree in business administration in 1970.
Speakers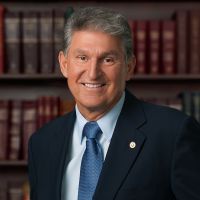 The Honorable Joseph Manchin III
United States Senator for West Virginia