The Economic Club of Washington, D.C. hosted a virtual Signature Event on Wednesday,  April 7 2021. David Rubenstein interviewed Gregory J. Hayes, Chief Executive Officer of Raytheon Technologies Corporation. One year ago in April, Greg Hayes led the all-stock merger of United Technologies Corporation with Raytheon Technologies, creating one of the world's largest aerospace and defense companies with 180,000 employees and $57 billion in net annual sales.
Greg Hayes has a nearly 21-year career at United Technologies Corporation (UTC), holding several senior leadership roles across finance, corporate strategy and business development, culminating with his appointment to chief executive officer in 2014 and chairman in 2016. As CEO, Hayes led the reshaping of UTC from an industrial conglomerate to a focused aerospace company. Beginning with the divestiture of Sikorsky Aircraft in 2015 and the acquisition of Rockwell Collins in 2018, Hayes continued to focus the business with the spinoffs of Otis Elevator Company and Carrier Corporation in 2020. Hayes then led the merger of UTC's remaining aerospace businesses, Pratt & Whitney and Collins Aerospace Systems, with the Raytheon Company, to form the new Raytheon Technologies in April 2020.
Hayes, who joined UTC in 1999 through its merger with the Sundstrand Corporation, also served as UTC's chief financial officer from 2008-2014.
Hayes holds a bachelor's degree in economics from Purdue University and is a Certified Public Accountant.
Speakers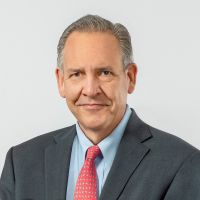 Gregory J. Hayes
Chief Executive Officer of Raytheon Technologies Corporation